Good day !Everyone , Hope you have a nice day on Monday. Derun led lighting company as a china led strip light factory , supply many kinds of led strip light , Such as UL Listed led strip light, high cri led strip , ic led strip and so on.
Recently , Derun lighting publish a new product , it is Good cri led strip light , which have 3 colors in 1 led chip . they are pure white  , warm white and red color. it is one kind of 5050 60leds/m led strip light .12v 14.4w per meter , with 10mm pcb and 3M sticker.
Why we pulished this kind of led strip light , it is because it have better visual effect for food display. and now more and more popular by customers. as we know, there is a part where storage fresh food in the super market . as such the meat , fruit , vagetable . most of time , we can see the lights install on sheet is cool white color , so you will see the fresh food like this :
Now let's change the lights to our High CRI led strip with 3 colors . you will see there is difference visual effect, which will make the food looks more fresh and catch customer's eyes.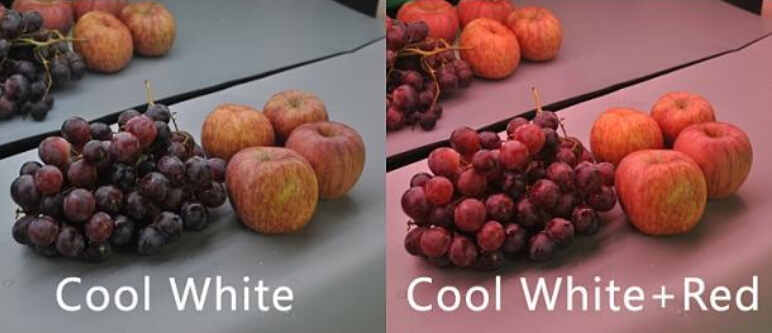 So how do you think of it ? if you are looking a such color led lights ,please feel free to contact us.