Good day!Hope everyone has a nice day!
Today , we are talking about how to installation led strip light , let's divide into 5 points to see:
For indoor installation :
it is easy to installation . Derun led lighting-the china led strip factory , offer installation guide for it . nonwaterproof ip20 led strip is good for indoor, there is a 3M tape sticker on the back , you just need to tear off the sticker then put led strip to the place where you want to install .then make it sooth by hands. But when install at the corner or overlength, what should we do ?It is easy,as we know that 12v led strip light is 3 leds cuttable .So we can cut them out for extra use .
For outfoor installation:
We will use the ip65 or ip67 , ip68 waterproof led strip light to protect from wind and rain. so if we install them by sticker , it can't fasten for a long time. then what should we do ? we can use the clips to aluminum case to make it fasten.for the connection point , we also need the waterproof glue to seal.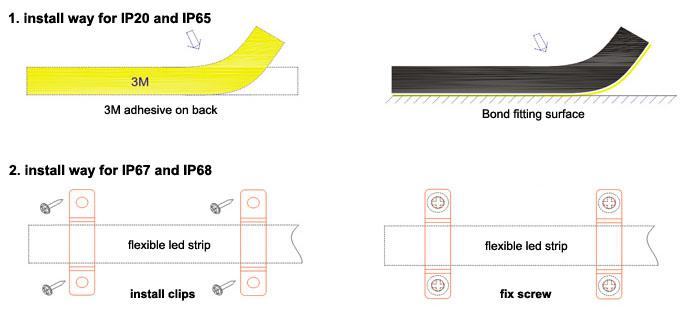 Is it easy to install , right ?
And about how to connected 12v or 24v led strip light with power supply , we will continue to talk tomorrow .
Hope everyone have a nice day 🙂