WS2811 Addressable Led Strip Kit With 12V 4A Adapter And Bluetooths Controller
DERUN LIGHTING is a company focusing on creating the best light experience via constantly pursuing high quality and endless innovation. We own teams for research and development, factory, sales. Our mission is to make your life more colorful indoor by our products and services.
The strip lights are IP65 splash-proof Dream color with 16million solid colors, 120 dream color chasing modes, Auto mode, brightness and speed can be adjusted from 1 to 100%. It is ideal for indoor lighting decoration, such as kitchen, under cabinet, dining room, bedroom, TV Backlighting, automobile, mirror, balcony, party, patio, wedding, etc.
What You Get :
2 rolls 16.4ft/5M RGB LED strip, 12V/3.5A power supply, Bluetooth box controller.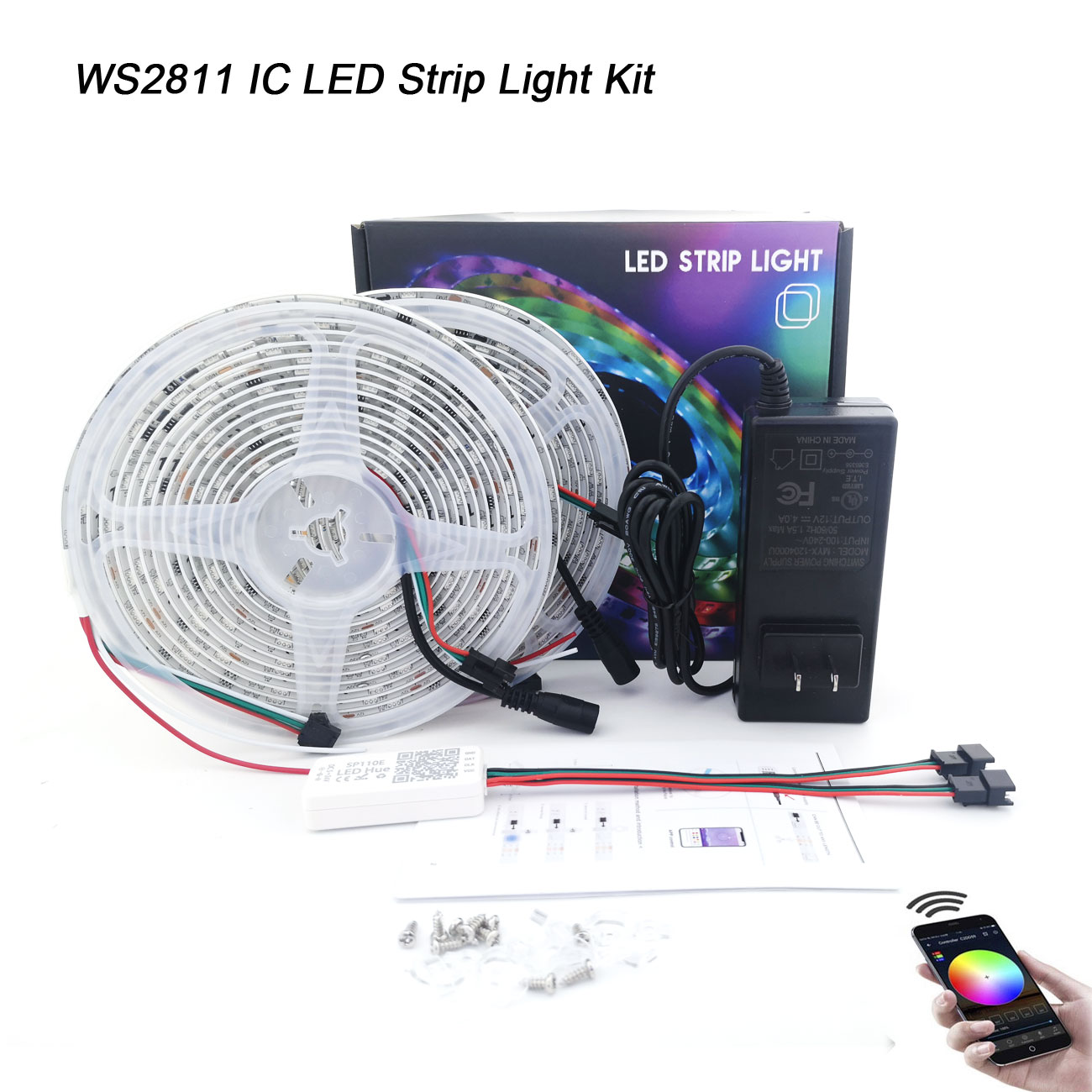 No extra accessories required
Addressable LED Strip & Chasing Effect
1. Special design by adding IC in strip lights, you can control a variety of Colors, Brightness, and Chasing Speed as you want.
2. Built-in 120 Kinds of Color Chasing Modes looks like recurrently chasing, skipping, dancing, twinkling on the strip, give you an amazing visual experience.
3. You also can Mark Your Favorite Chasing Effect and only display the effect you mark.
4. If you don't want the chasing mode, you can DIY a Static Color for lighting.
Smartphone App Controlled Led Light Strip
1. Download APP, connect Bluetooth, no setting or network management required.
2. Easily turn on/off, adjust color and brightness. Everything controlled by your Smartphone, Very convenient and easy operation.
3. APP named: LED Hue. Supports IOS 10.0 or above / Android 4.4 or above.
The following video will show you use the led hue app to controller ws2811 led strip lights
Safe To Use & Lights Upgraded
The LED lights working with Low Voltage of DC 12V and equipped with short circuit protection, extremely Low-heat, safety for your home
What's more, Our led rope lights were upgraded to Sponge Adhesive Tape Light. More sticky and strong than other lights on the market. Also mounting brackets are added for dual firmness.
Indoor Decorative Lights
[IP65 Waterproof] [Flexible] [Cuttable & Linkable] [Self-adhesive Backing]makes it easy to install, suitable for indoor use.
The multiple[Rainbow Color Changing]Mode is very vivid and beautiful. You can use it to make led screen, advertising board and decorate your room, kitchen, shop windows and bar. A perfect ambient led strip lighting for romantic dating and holidays, Christmas, Halloween, Parties.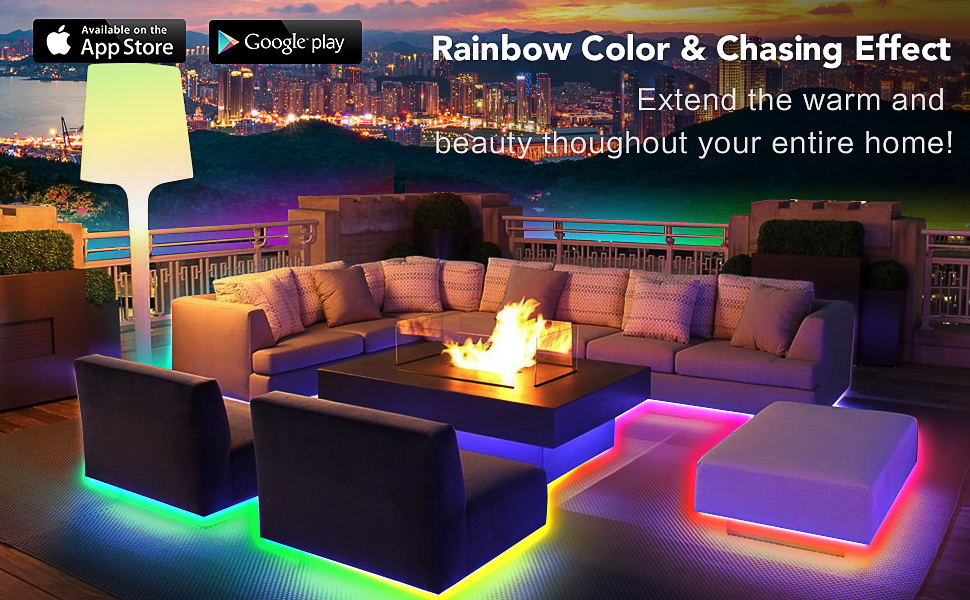 Easy to set up and operation!

APP named: LED Hue. Support Android 4.4 or above / IOS 10.0 or above.
Step 1: Download "Led Hue" in Google Play or App Store.
Step 2: Make sure your phone Bluetooth is turned on.
(don't connect the device on Bluetooth setting page)
Step 3: Open the APP, pull down to refresh. Click the "SP110E" to connect.
Step 4: Make sure the parameter is "BRG, WS2811" Total pixels ≥100. (2 rolls)
Multi Applications
Chase Effect Rope Lights

Built-in IC, both include the pure colors and multi-colors chase in line. The APP contains 120 kinds of color chasing modes.

If you don't want the chasing mode, you can DIY a static color for lighting.
Each color's brightness can be adjusted, bringing you a wonderful visual experience

Safe To Use

Input: AC100-240V
Output: DC 12V/3.5A
Life Expectancy : 50,000+ hours

The LED strip lights working with Low Voltage of DC 12V and equipped with short circuit protection, extremely Low-heat, safety for your home and children.

Home & Party & Christmas Decoration

You can use virtually anywhere you want!

Host a party, decorate your home, bar, boat, RV. Use it at a wedding, display the advertisement or celebrate Christmas and Halloween!

No matter what, It is an ideal gift for you to enjoy your wonderful life!
Bluetooth Controller:
Input : 5-24V DC
Color: 16 colors
Brightness adjustable
5 light pattern: Static/Flash/Strobe/Fade-change/RGB Smooth-change
Power supply:
Output: 12V
Input: 100-240VAC, 50/60Hz, 3A
DC Connector: 5.5 x 2.5mm (outer diameter x inner diameter)
APP Features:
Color: 16 Million of color
Adjustable temperature
DIY allows you to create custom colors, modes, and speed
Brightness control: From 1% to 100%
Sound volume: From 1% to 100%
Speed: From 1% to 100%
Sync with music and sounds & Timer Mode
Tips:
1. The connect must be in towards the arrows before you plug in the power supply.
2. Don't leave them on the spool when you testing them for more than 2-3 mins. They need to dissipating heat.
3. Clean the surface before sticking on the strip.
4. Please don't stick the lights to the metal surface that conductive. It may cause a short-circuit on the strip light.
Package included
5M or 10M 5050 WS2811 RGB LED Strip
1 x Bluetooth Signal receiver
1 x 12V ac/dc power adapter
1 x User Manual