What Are Authentic 120V/240V Driverless LED Strip Lights?
---
If you want to buy a LED strip, but don't want to consider troublesome wiring, connection, cascade length, voltage drop, etc., then you can go Buy a driverless LED strip light.
What does the driverless led light strip look like?
Is that so?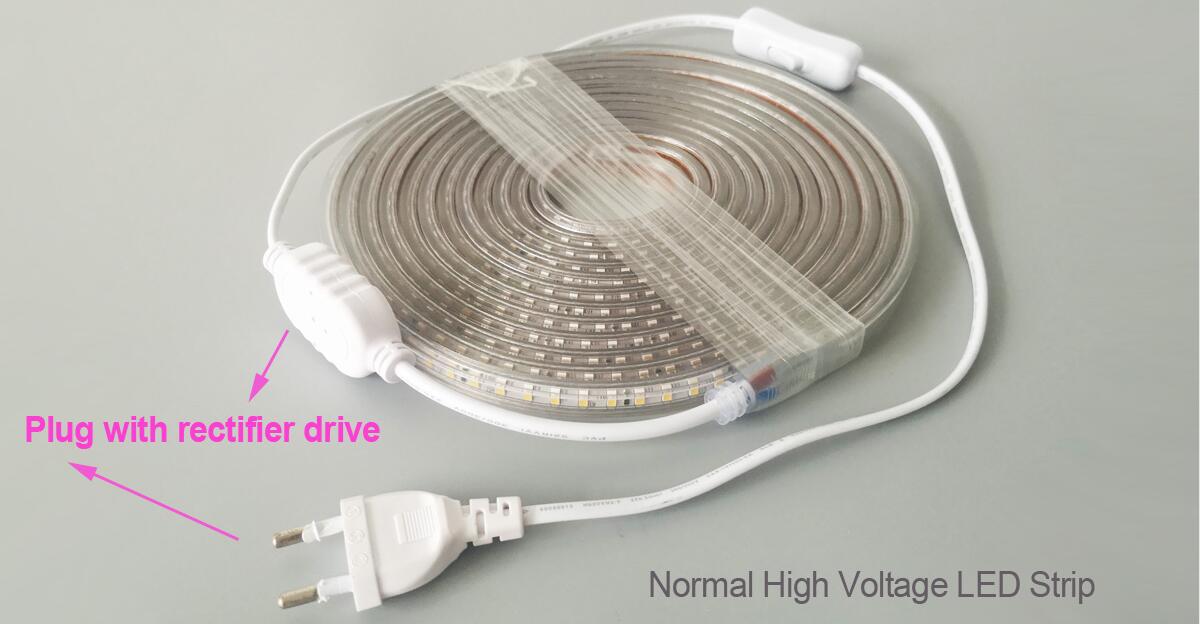 No, this is just a regular high-voltage light strip. As long as you cut it for use, you must use a special power plug such as this can light up the light strip. Therefore, this is not a real drive-free led light strip.
Is that so?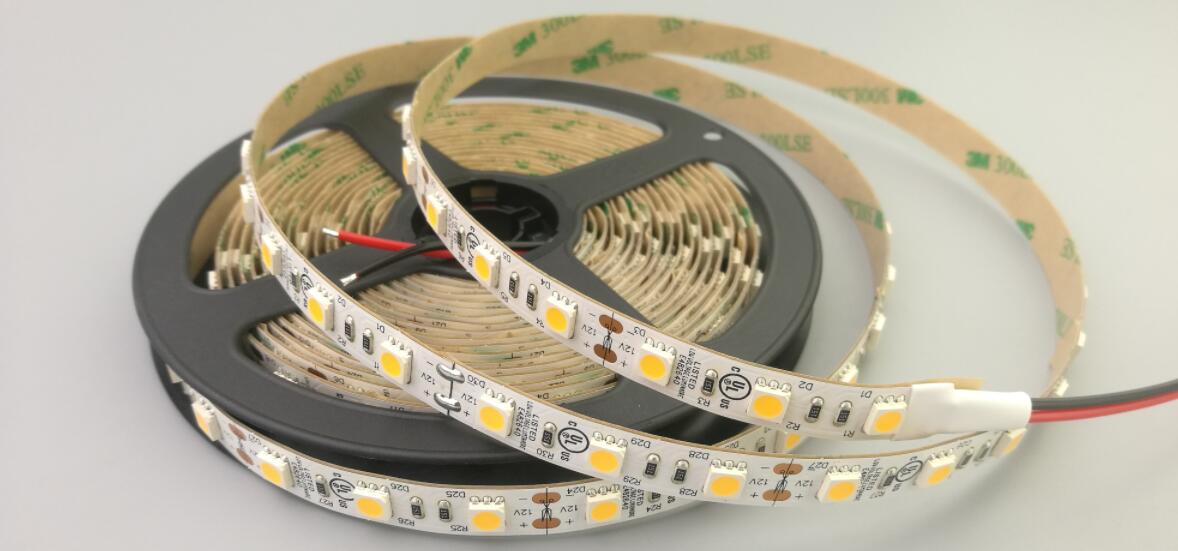 of course not. This is the most conventional low-voltage led light strip. When using it, it must be connected to a DC power supply of the corresponding voltage.
The following product is something refreshing for you. It does not need a matching power supply or driver to drive the light. No matter how you cut it to use, as long as a wire is connected to the positive and negative poles at the cutting opening, 120V or 240V alternating current can be directly input to directly light up the led strip light.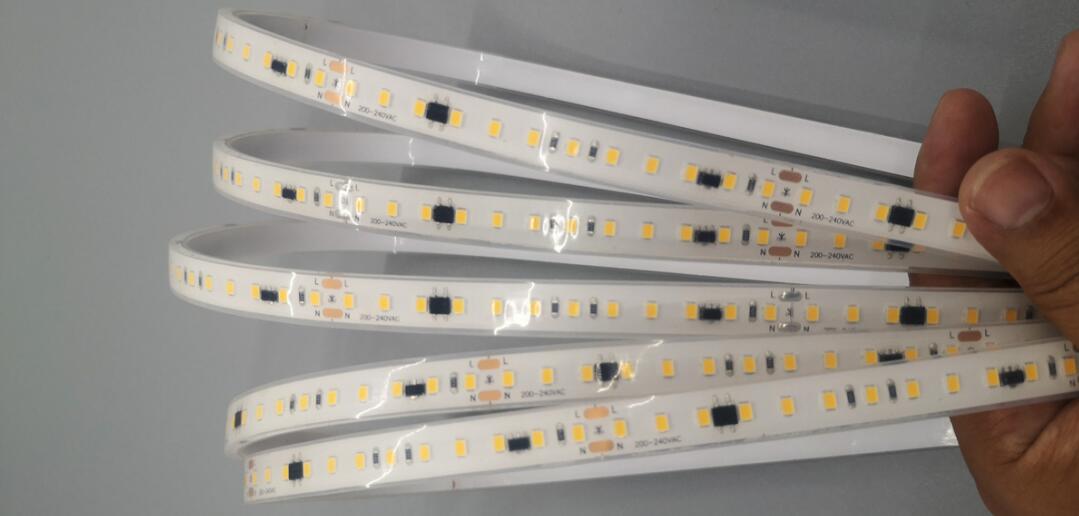 You don't need to think about how many watts a drive is needed for him, because it doesn't need that thing at all.
Compared with conventional high-voltage led light strips, what are the advantages of driverless LED tape lights?
1. This is a constant current led light strip.
What is a constant current led light strip? When the light strip is working, the current flowing through each LED is the same, that is means, the light effect of each LED is the same. In this way, there will be no phenomenon such as that the beginning of the conventional constant voltage led light strip is brighter and the end is darker!
This will greatly improve the use effect of the led strip light.
2. More waterproof options.
The most conventional of this driverless led strip is the IP65 waterproof effect, higher can reach IP67 (hollow silicone extrusion)or IP68 (solid silicone extrusion). And there is only one type of conventional high-voltage led strip, that is, PVC extrusion waterproof.
3. A wider range of applications.
4. It is more convenient to use.
With this driverless led light strip, you don't need to consider how many power cords I should buy in order to meet the current project consumption. Because it doesn't need the power cord. The smallest cutting unit is only 100mm, which is more flexible, convenient, and cost-saving when arranging scene effects. (Normally the minimum cutting length of the high-voltage led strip is 500mm or 1000mm).

This product is mainly used in advertising light boxes, luminous characters, and alternative low-voltage LED light strips for commercial places or home decoration. Compared with low-voltage light strips, it has its own advantages:
Directly connect to AC110V or AC220V high voltage power, no need to install an adaptable power supply;
Because it adopts the design of a constant current light strip, there is no need to consider the voltage drop problem, and it can be connected in series for 100 meters without light attenuation.
The driver-free design scheme saves troublesome wiring steps. It is very convenient to install and use, saving a lot of labor costs. And the professional degree requirements of the installers are not as high as low-voltage light strips. 
The cutting segment of the traditional high voltage strip is 1 M, but the minimum cutting segment of our patent series is 100mm which satisfies most of the usage requirements of the shorter cutting segment.
Higher safety performance, all of our such series of products be made by extrusion technology with food-grade silicone, no yellowing, no cracking, protection grade up to IP68.
Here is a summary of the advantages of a 120v/240v driverless led light strip:
– No built-in wire, single-color extruded silicone sheath, beautiful appearance, and flexible bending.
-Drive-free design with direct AC input. More convenient to use.
-Overvoltage, overcurrent, and overtemperature protection with onboard smart IC driver.
-Constant current output scheme, the whole strip has no voltage drop, uniform light emission, good consistency, and constant brightness.
-Outdoor special silica gel material, with strong weather resistance, anti-ultraviolet, fire-proof, and anti-corrosion performance.
-The length can be customized according to the incremental multiple.
-IP65 indoor and IP67, IP68 outdoor use.
Dimensions(mm):


Specifications
| | |
| --- | --- |
| Product name | Driverless LED Strip Light |
| Model | DR01-110-120 / DR01-220-120 |
| Power(W) | 12W/M |
| Input voltage | AC110~120V / AC220V~240V |
| Led quantity | 120pcs/M |
| CRI(Ra) | Ra80 |
| CCT(K) | 2700K~6500K |
| Luminous flux | 1100-1300Lm/M |
| Beam angle | 120° |
| LED chip | SMD2835 |
| PCB width | 10mm |
| Working hours | 50000 hours |
| Length | 10M/20M/30M/50M per roll |
| Standard connector | cable or Plug on the end |
| Waterproof ratings | IP65/IP67/IP68 |
| Tape | 3M 300LSE tape on the back for IP65 LED tape |
| Certification | CE, ROHS |
| Warranty | 5 years |
Product Image:


Optional packaging accessories list:
1. Mounting screws: M3 hardened self-tapping screws;
2. Installation card, U-shaped silicone installation card, or U-shaped plastic buckle;
3. Install plugs: U-shaped plugs and plugs with neck;
4. Male cable with fuse at the head end;
5. Female waterproof DC connector;
6. Glue for install end cap;
7. 3M adhesive
Please leave us a message about any problems with the led strip light. We would love to hear from you and provide you with the products you need.