Specification
Zigzag Bendable Flexible LED Strip Light with 16.4' 40W 300 Diodes 2835  – This versatile LED Strip light can curve in any angle. It has excellent bend-resistance and widely used for sign and advertisement applications.
The led strip light is in 8W/M (2.7 Watts foot). It uses a 2835 LED Chip placed every 0.66"(16.6mm). This LED Strip has low-Density Lighting with 60 didoes per meter or (18/ft).
It is cuttable every 3 LED chips or 2"(50mm) for 12VDC and every 6 LED chips or 4"(100mm) for 24VDC. The PCB width of this led strip light is 6mm.
It has a strong 3M adhesive tape backing on IP20 and IP65 strips that allows it to peel and stick to most surfaces. LED Strips will only achieve their maximum Lifetime installed in an Aluminum Profile to dissipate heat, protect them from elements, and create desirable lighting effects.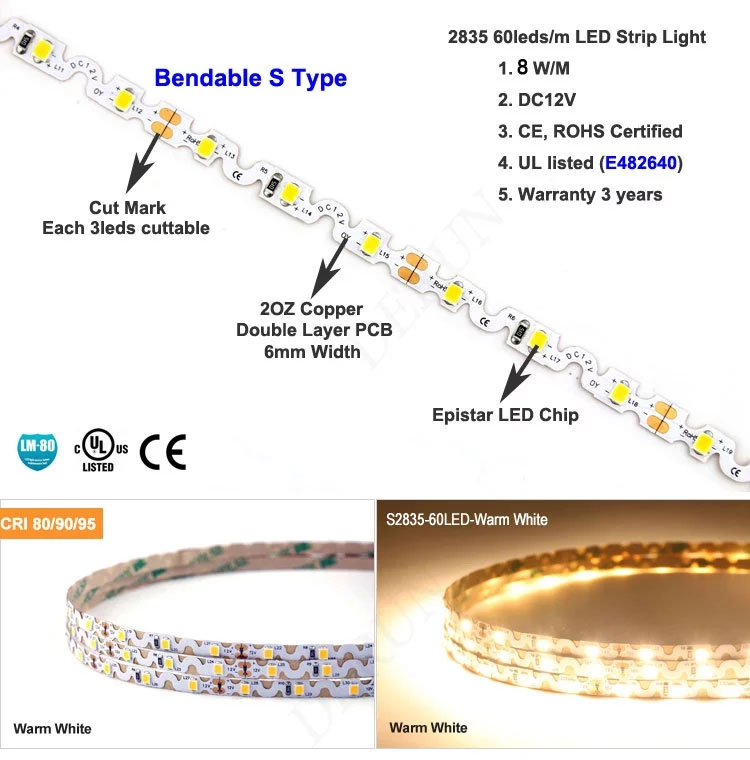 Product parameters
| | |
| --- | --- |
| Product name | Bendable Flexible LED Strip Light with 16.4' 30W 300 Diodes 2835 |
| Part number | DR-2835FXB60-12V |
| Power(W) | 8W/M |
| Input voltage | DC12V/24V |
| Led quantity | 60pcs/M |
| CRI(Ra) | Ra80, Ra90, Ra95 |
| CCT(K) | 2200K/2700K/3000k/4000K/5000k/6000K |
| Luminous flux | 24-26lm per led |
| Beam angle | 120° |
| LED chip | SMD2835 |
| PCB width | 6mm |
| Working hours | 50000 hours |
| Length | 5000mm (16.4ft) per roll |
| Standard connector | the cable on the end |
| Waterproof ratings | IP20 IP65 |
| Tape | 3M 300LSE tape on the back |
| Packing | 5m/roll |
| Certification | CE, ROHS, cUL, UL listed |
| Warranty | 3 years |

Here we have a five-meter bendable LED tape now this is a way a very clever way of getting lighting into dark and dingy areas of your home.
It has a sticky back tape on the back of it so literally all you do is stick it around the areas that you want to light.
So I'm thinking undersides of bookshelves back at the doors of wardrobes. So you can actually see what's in the wardrobe, or even under or on top of your kitchen wall. units it's 8 watt LEDs which give out 1,000 lumens. so it's nice and bright super energy-efficient.

Because we're on LED lighting here, the other great thing about these is they don't dissipate heat. So if you are putting in an area where it might come into touch with your hand, you're not going to burn yourself.
As well the installation is very easy, you start at one end taping as you go. It's completely bendable, so it'll go around all kinds of strange shapes quite comfortably and stick into position.
Now remember there are five meters here, if you don't need the full five meters during the installation process when it's not on, you can obviously stick up to where you need and there are parts marked on it, where you can clearly cut through with a pair of scissors, and these are about every 100 millimeters, and you just literally snip through them, and you're ready to go plug-and-play aspect to, and to get light into those dark and dingy corners
Welcome to visit our factory, or contact us: info@derunledlights.com