What is UL listed lighting?
Q: What is the UL lighting list, why do you need a UL list number on the fixture?
A: UL is a test facility for luminaires (and other electrical equipment) that guarantees product safety.
All electronic control equipment or systems in the United States need to be certified. Certification by recognized and accredited testing laboratories is considered a sign of compliance with national safety regulations.
The most famous recognized testing organization is UL (Underwriters Laboratories). UL-guided testing is a very important component in combination with national standards in accordance with UL standards.
Is UL listing required for low voltage led strip light?
National Electrical Code (NEC Article 411) requires low-voltage lighting equipment to be listed in UL for this purpose. This means that all electrical components (clamps, wires, and transformers) have a UL list. Electrical inspectors may fail landscape lighting projects that contain no-listed products.
Therefore, following the NEC requirements, the conclusion is that LED strip lights are not subject to the UL listed requirements, and UL2108 (IFDR) is the standard that should be used when evaluating LED strip products.
DERUN's UL listed led strip lights
All of our regular led light strips have been ul certified, the certification number is E482640, the following is a list of led strip products with ul certification.
Report Reference: E482640-20160324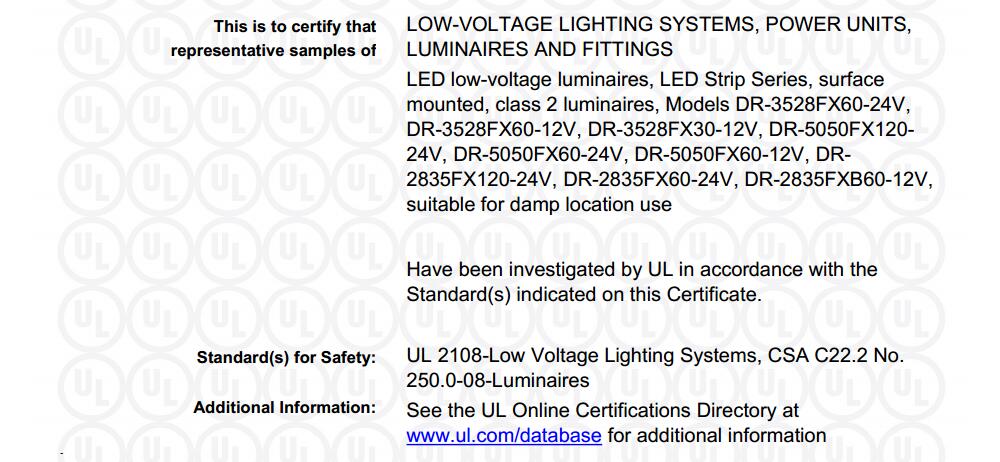 Report Reference: E482640-20160924