Good day ! Afer last week busy working , the new week is coming.
Today, i would like to introduce a new led controller for you— 2.4G led controller.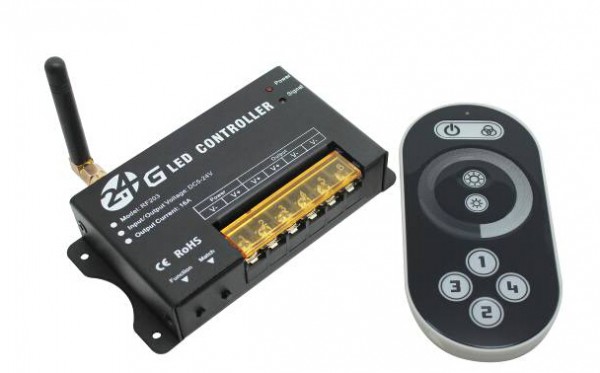 2.4G controller is newly introduced wireless high-power LED controller of our company. It equips with touch remote control, touch remote control adopts high precision capacitance touch control technology, you can select the color you need by one button. It is convenient and easy. Each controller has a globally unique address code, in order to prevent confusion caused by controlling repeated address code. Each controller can be equipped with four remote controls, can achieve multiple controllers synchronization control. It is used for controlling a variety of lamp whose source of light is LED. For instance, point source of light, flexible light strip, wall washer lamp, glass wall light etc. It has many advantages such as convenient to connect, easy to use and others. According to the actual need of customers, it can carry out jumpy changing, gradual changing, stroboflash and other effects of change. It can achieve single control and group control, easy for user to use.
Technical Parameters
Controller
     working temperature: -20-60℃
supply voltage: DC5V-24V
output: 1 channels
connection mode: common anode
external dimension: L120ΧW62ΧH27mm
packing size: L185ΧW145ΧH52 mm
net weight: 220g
gross weight: 314g
static power consumption: <1W
output current: <16A
output power: 12V:<192W, 24V:<384W
I will show more details for you tomorrow about how to use this controller . See you tomorrow .