Today , I would like to show everyone a new product : High Voltage RF LED Controller .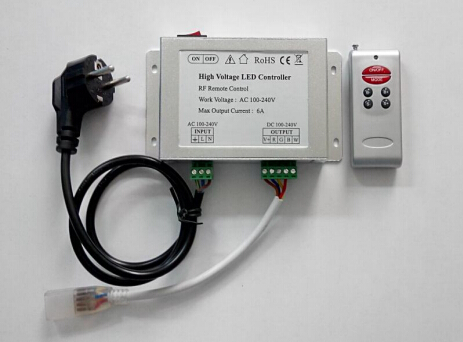 The procuct is a smart LED controller using wireless RF remote control color and brightness variations of high voltage 110v240v led strip light .the choice of color,which can make led strip color  change , dimming .
As below are the specification of this controlller :
Controller
Output channels(Optional) R G B 3Channels
R G B W 4Channels
Supply voltage AC 100-240V
Loadable current 6A
Output power 660W(AC110V)~1320W(AC220V)
Control method RF remote control
Connection mode Common anode
Changing pattern 11 (7 static color modes, 4 dynamic changing pattern)
Dimmering mothod PWM
Grey steps 8
Protection The power input polarity protection
the Features of this controller :
1.The newest PWM control technology,delicate light performance,no flicker.
2.More than 50 meters RF remote control distance.
3.Color mode changes and more flexible control.
4.Multi-type menory functions for color,modes,speed,and brightness.
5.Smart appearance,standard in put and output port,easy installation and high cost performance.
We can use this controller work at high voltage led strip at such environmen:
1.commercial buildings,airports or subways.
2.Indoor decoration:hotels,shoppingmalls,squares,restaurants,bars,houses.
3.Outdoor decoration:advertising boards,parks,bridges,roads and overpasses,scenic spots.
4.Others:decorating for motor vehicles,samples reveal ark and the places needing RGB lights.
About how to controll and wiring this controller with led strip light , let's continue this topi next monday !