Hello everyone , today , i would like to talk something about bluetooth controller again.
But this time the controller is not difference with the last one. it is for android version. as below are the simple specification and picture of  this bluetooth controller :
1. Android Version & IOS Version
2. Can be used to support infrared 24 key remote control, suitable for
all people. It also can be used without the IR remote
3. Can adjust monochrome, double color, RGB, RGBW 4 kinds of
lamps, product factory has set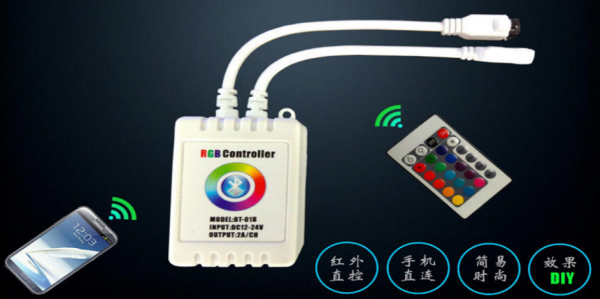 This Bluetooth controller can be adapted to all of the Android mobile phone use, can also be used directly
with the remote control, powerful functions can be arbitrary set up their own function mode. Can be based on user needs of the factory set to RGB or RGBW or monochrome or double color, a total of 4 kinds of work mode. This product is simple to use, no need to set up, the Bluetooth connection is convenient, the compatibility is strong and so on. The software shows that the text is based on the language of the mobile phone set up automatic transformation of Chinese or english.
This product is suitable for all kinds of LED lamps.such as flexible rgb led strip light , rgb rigid led strip light and rgb led module.