Nowdays , the led panel light is more and more popular in the commercial use . you can see there are in the offices , stores , supermarkets ,hotels… it is big zise of brightness with high lumen .looks simple and  graceful in the application.
For led panel , there is difference size , such as 300*300mm , 600*600mm,620*620mm, 1200*600mm . So now the question is what are the parts to assemble the led panel light ? there are aluminum frame , diffuser , goldenrod paper,LGP (light guide plate), led strip , ceilling membrane and botoom. as picture show fllowing :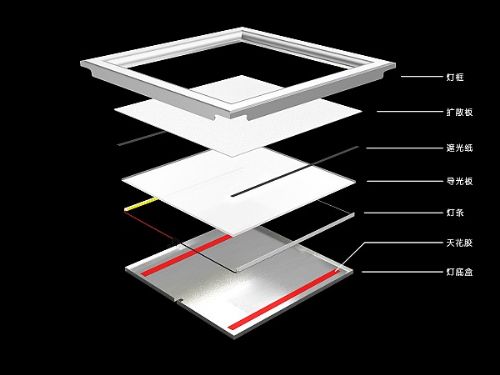 as below are some improtance function of the main parts:
1.The aluminum frame and botoom are the mian channel for led panel light to make heat dissipation, so it is the very importan parts of led panel light.
2.The diffuser is made of  acrylic(PMMA), its function is to make the lights lead out blance and solf. its luminousness at 92%.
3.The LGP is use the Optical Grade acrylic sheets to keep the lights stand on it , when lights send out to the each accurate,  reflected light will diffuser to any angle, which can make LGP grow light blance, improve lights efficiency.
4.Led strip light is main lights source , it is the key of led panel light . we often use smd 2835 led strip or samsung 5630 led strip light to make it , they have high lumen and have best efficieny.
We can offer led panel light in high quality as above description , if you are interested in our led panel light ,welcome to send us inquiry.
Linda Lin
Sales5@derunledlights.com
www.derunledlights.com