All of us know that when light up the 12v led strip light , we just need a power supply (imput 110v-240v , output 12v )to work with the 12v led strip light is ok . How about the high voltage 110v-240v led strip light ? then we will curious why they can directly to 110v or 220v without a power supply/led driver. Is it really no need the led driver ?
In fact , when we light up the 110/220v led strip light, there is a power cord with a small white box , like this :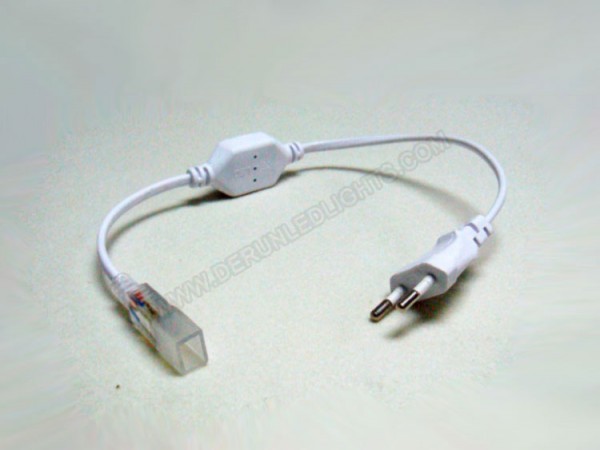 What's the white box for? Because the led strip it is series by groups, So this white box with cord just like a driver to make AC 220v transfer to DC voltage , so that's why the led strip with power cord can directly to 110v or 220v.  It is easy to understand, just like the fluorescent tube with 2 rectifiers.
Also when we connected the power cord with led strip , some clients also meet a problem , the strip lights can't light up , what's the problem ? It is because the power cord 2 pins there has Plus-n-Minus , so you maybe connect them in wrong , just make adjustment the Plus-n-Minus that the lights can light up again.
If you meet any other questions when using the 220v led strip light , please feel free to contact us , we will help you solve the problem 🙂