What's the Typical Application for 2.4g led controller?
As shown in Figure 6: DIP switch is used for group control. The series controller has a four-digit dial, you can divide the controller into four groups and control them. It can carry out single control and overall control using remote control.
As shown in Figure 8: there are four controllers, set them respectively as group 1, group 2, group 3, group 4. It can carry out group control and overall control with remote control. You should operate in accordance with the following steps:
Step 1: matching code
You need to match code before using controller, otherwise, you can not remote control. Please refer to "the fourth step in Controller Instructions for Use".
Step 2: group control of controllers
Controller DIP No. 1-4, if "1" is on, the controller belongs to the first group, and if "2" is on, the controller belongs to the second group, and so forth. If more than one is one at the same time, the small number is effective.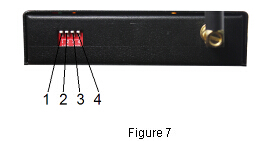 Step 3: remote control
For the function of remote control, please refer to "Remote control direction for use".
Group 1 control: firstly press "5" key on the remote control, and then you can control the first group, the control is invalid to other groups. If you want to control group 2, you need to press "6", and other groups are the same. If you want to achieve overall control, you need to press "2" key, overall control button, and then you can achieve overall control.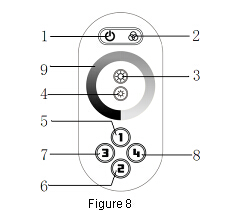 As below, are something need to pay attention when connected led strip light with controller :
Connect the load wire at first, following by the power wire; Please ensure short circuit can not occur between connecting wire before you turn on the power;
Led Power supply voltage range is DC5~24V, more than voltage range maybe burnout the controller.