Long time no see~ Hope your everything goes very well. Sarah say hello to everyone~
I'd like to share with my customer's commercial lighting project to you, he is come from Singapore, a great engineer –Daniel, he order the 1m 5050 30leds/m 3000k led strip light, 2.9m 5050 30leds/m and the UL listed 12V adapter and some accessories to decoration the mall bathroom.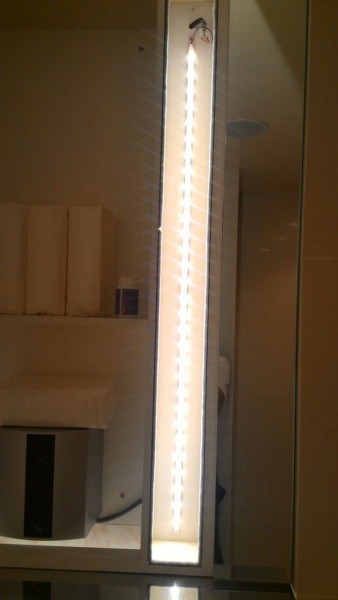 From the picture we can see that the led light are installed between the big mirror, and also before the every handing washing. As we all know that he 5050 30leds/m is 7.2watt per meter, you could use one 60W adapter to connect 7m led strip light, if you want connect > 7m, i'd suggest you could use the led light connect in parallel. Other -wise the light's end have a little bit Lumens depreciation. It is bad for the led chip and will reduce the lifespan of the led strips.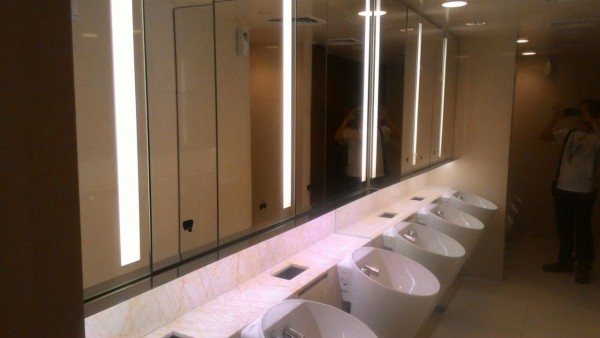 It will be finished the project, but he leave out one pcs of the 2.9m led strip light, i will ship it out to he again. From the picture, anybody want to say, why the 3000k(warm white)  it looks like the 4000k( nature white)? That's the great question, the reason is my customer order the waterproof IP65 (silicon covering) led strip light, so the Color temperature will be up then before. so everyone will be careful that, if you want the waterproof warm white color, it will be looks like nature white.
but how to resovle it? if you want the waterproof led strip light looks like the warm white, you could order lower color temperature,  for example: 2400-2700k.
Have a nice day~ that's all ~ see you next week~