It is Linda again . there are only 2 days before having holiday , so today , i am go on to talk something about our website updates . Yesterday , we are talking about that part of Clients' project. So now let's move on to another part : led Manuals.
In this part , we will show everyone the specification sheet in PDF of led products. Such as the flexible led strip light and led controller .we will insert the manual to each products . for example. when you are scaning the page of : "5050 144W 12V 600 Diodes 16.4ft Roll IP68 Silicon Filled Waterproof Led Strip Light ", you will see the manuals of this model ,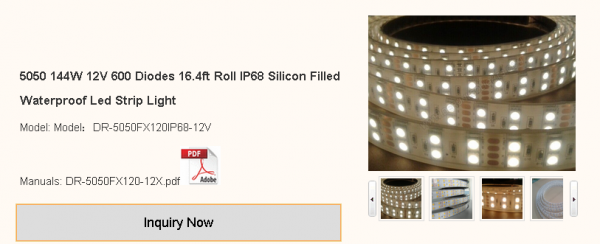 The reason why we put specification sheet to our main product is that we would like to show clients a awareness : We are the professor for flexible led strip . When client who is a newer , he can learn more about our product from the specification.  When client who is a regular , he will creat more projects when he know well our products . we are trying to be better and better . We think it is also a good idea to increase the trust between clients and us.
If you have more suggestions about the our website and product , welcome to send us email , we will highly appreciated for your kindly suggestion 🙂